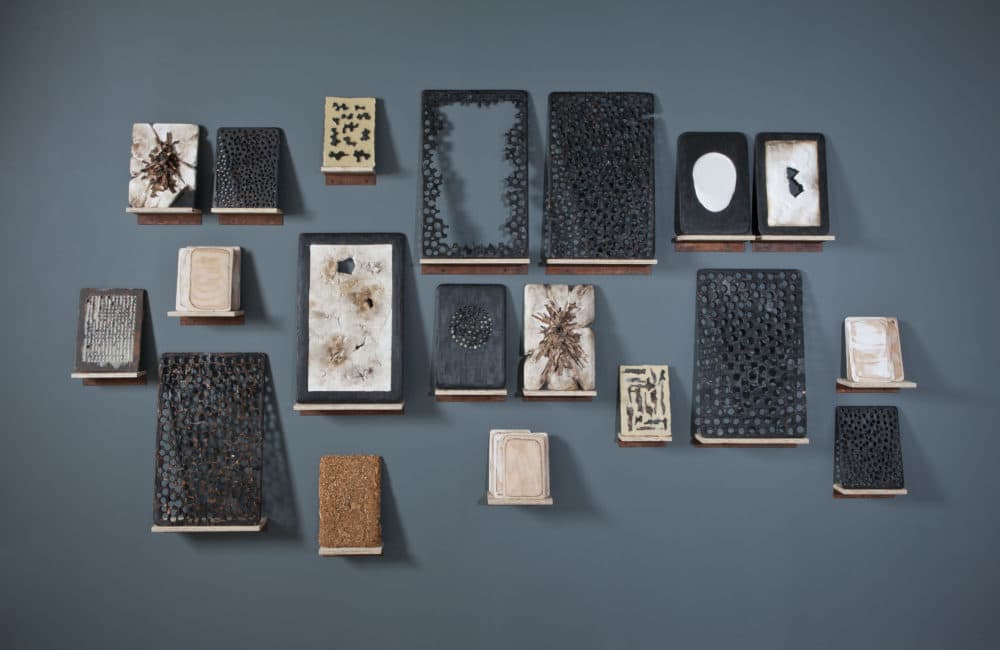 At Fuller Craft, artist Michelle Samour transcends borders and boundaries
In Michelle Samour's childhood home, a magnificent Persian rug adorned the living room floor. The rug was filled with patterns – deep reds, navy blues, soft greens – that were geometric in style but organic. The carpet was just one object among many that was the touchstone of a region of the world that Samur never knew, but which was, in fact, his ancestral home. Samour's father was a Palestinian emigrant. He never spoke much about his life in Palestine, but Samur nonetheless absorbed some of his visual language through accessory items scattered around the house, including an embroidered waistcoat, an ornate jewelry box belonging to his grandmother. and a mother-of-pearl compact which was a gift from Samur's father to his mother.
"Visually, it was really part of my childhood," says Samour, professor of papermaking in the School of the Museum of Fine Arts at Tufts University. (She will be retiring this year and has already moved to Bennington, Vermont, where she plans to build a studio.)
Samour adopted the visual vocabulary of the Middle East in "Map borders and boundaries», On view until September 19 at the Fuller Craft Museum. Investigating the concepts of homeland, exile and diaspora, his work, at first glance, may seem purely decorative, but at second glance, reveals a deeper substratum laden with political and philosophical considerations.
We see large, colorful paintings on plexiglass, reminiscent of the type of pattern Samur observed on his Persian rug from childhood. But there is a trick. These geometric patterns which may appear to be simple abstract foliage or random abstract shapes are actually outlines of Palestinian territories and Israeli settlements, particularly the West Bank, Gaza and Jerusalem. They have been traced and mirrored to create an "inverted painting" of decorative symmetry. Under the first layer of plexiglass painted in a translucent and opaque color in jewel tones is a second layer of luminescent leaf, similar to the green leaf that stands out under the mother-of-pearl compact that Samour's father gave his mother. The technique is called garland painting and is common, along with the handwork of mother-of-pearl and abalone, in items made in Bethlehem.
Samour's use of indigenous design is an elegant and deftly succinct way of celebrating the region's cultural history while also criticizing it in a subversive way. The gemstone colors of some of the paintings in the exhibition testify to the preciousness of the land while drawing a stark contrast to the history of conflict in the region.
"I worked this way for a while and then I realized the connection," she says of her reverse paintings. "It was sort of a way for me to talk about my father's story and my belonging to the Palestinian diaspora. I had always wanted to talk about it, but I really wanted to make sure it felt right, that there was already a connection to the work I was doing.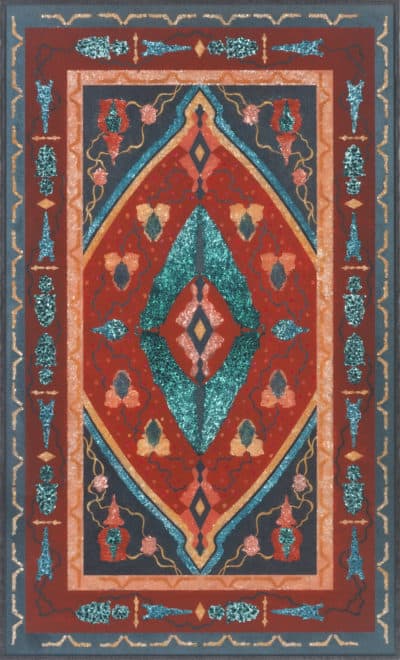 The questions inherent in his work go much deeper than mere surface decoration. What place do we call home? Who or what gives us the right to call this place our home? What Happens When You Lose Your Home?
"The original title of this series was 'Borders and Limits: In Search of Palestine'," says Samour. "But I felt like the title was too specific because I wanted the work to be a catalyst for conversation not only about this part of the world, but about what is happening in all parts of the world, in terms of redefining borders and limits. "
Samour's artistic practice has long leaned towards a robust materiality. She doesn't just paint. Previous work has seen her manipulate pigmented abaca fiber into sculptural forms and construct two-layer light boxes to provide a multidimensional view of our microbial world. In this exhibition, his physical approach continues with two other bodies of work, "Land of Milk and Honey: A Story" and "Milk and Honey: Stuck. "
In "A Story", Samour creates mixed media works on small panels that incorporate burnt wood, milk paint, beeswax, plaster and steel. Samour takes wooden tablets, some painted white, and sands them down as a metaphor for loss and disappearance. She says she was also referring to the wooden construction of the jewelry box that belonged to her grandmother and was later given to her mother. On these heirlooms, pieces of mother-of-pearl and abalone had peeled off, exposing the raw wood.
"I thought it was a good metaphor for what was happening to the Palestinians before the partition of Palestine, the formation of Israel and the ongoing conflict," she said.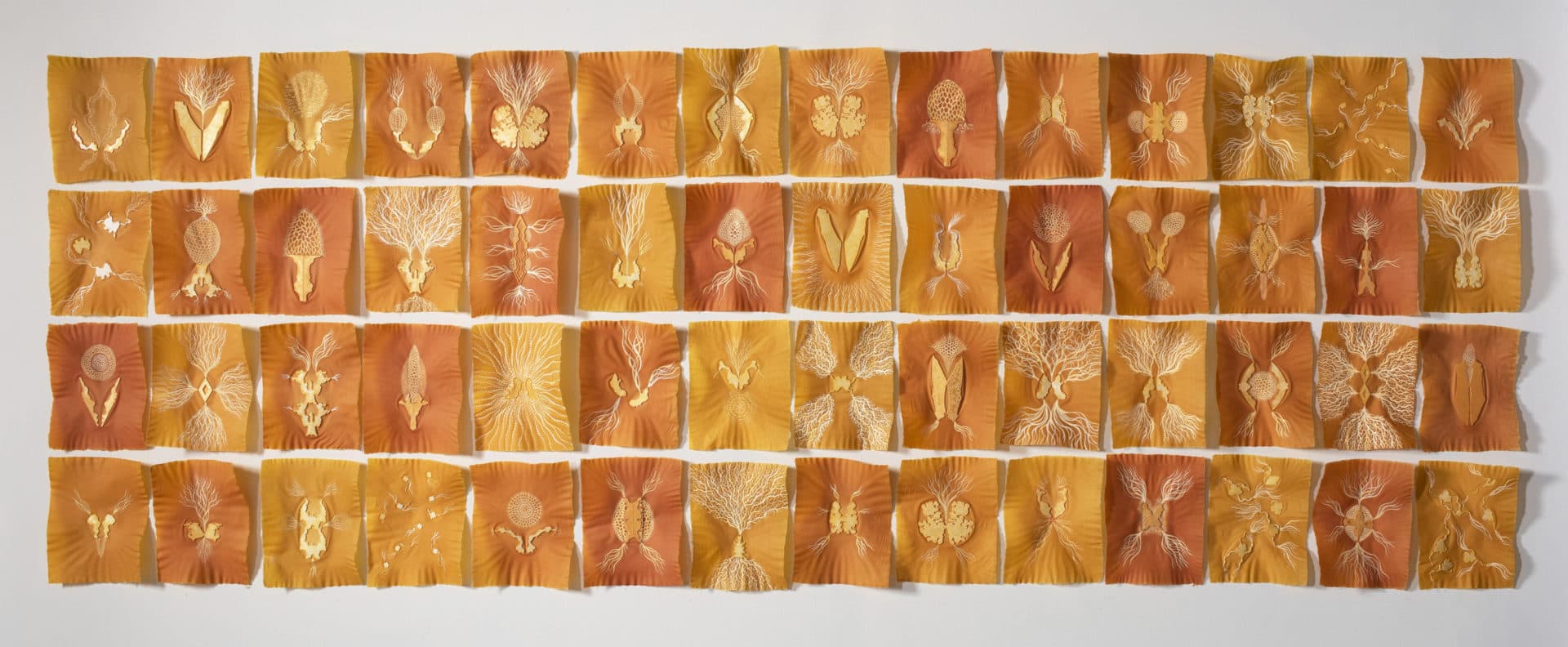 Samur drills holes in his wooden tablets and burns them, another way of discussing the loss and destruction of the Palestinian homeland. The artwork, with splinters of wood encrusted in beeswax, was Samur's expression of the cyclical nature of the story as well as "the 'confinement' of the Palestinians where leaving is difficult and staying can be. be even more ".
In "Stuck", Samur cuts iridescent acrylic paint reminiscent of mother-of-pearl in the shapes of Israel, Palestine, the West Bank, Gaza, Jerusalem and the settlements. She then inserts the fragments into sheets of shiny orange-yellow abaca paper. She coats the paper with a layer of white gouache. The title of the play refers to the biblical phrase "land of milk and honey" referring to the promised land in Jewish tradition. The question implicit in the play is who is this "promised land" for?
"This whole idea of ​​talking about Israel and Palestine can be so difficult because people are so invested, understandably, in history whether you are a Jew, a Christian or a Muslim," Samur explains. "It's a difficult story to tell without people getting angry and territorial and listening. I just wanted to pay attention to all of this work to present it in a more subtle way, to hopefully make the work curious and invite people to think about what that might mean for both parties.
---
"Michelle Samour: Mapping Borders and LimitsIs at the Fuller Craft Museum from March 2 (the day the museum reopens) to September 19.