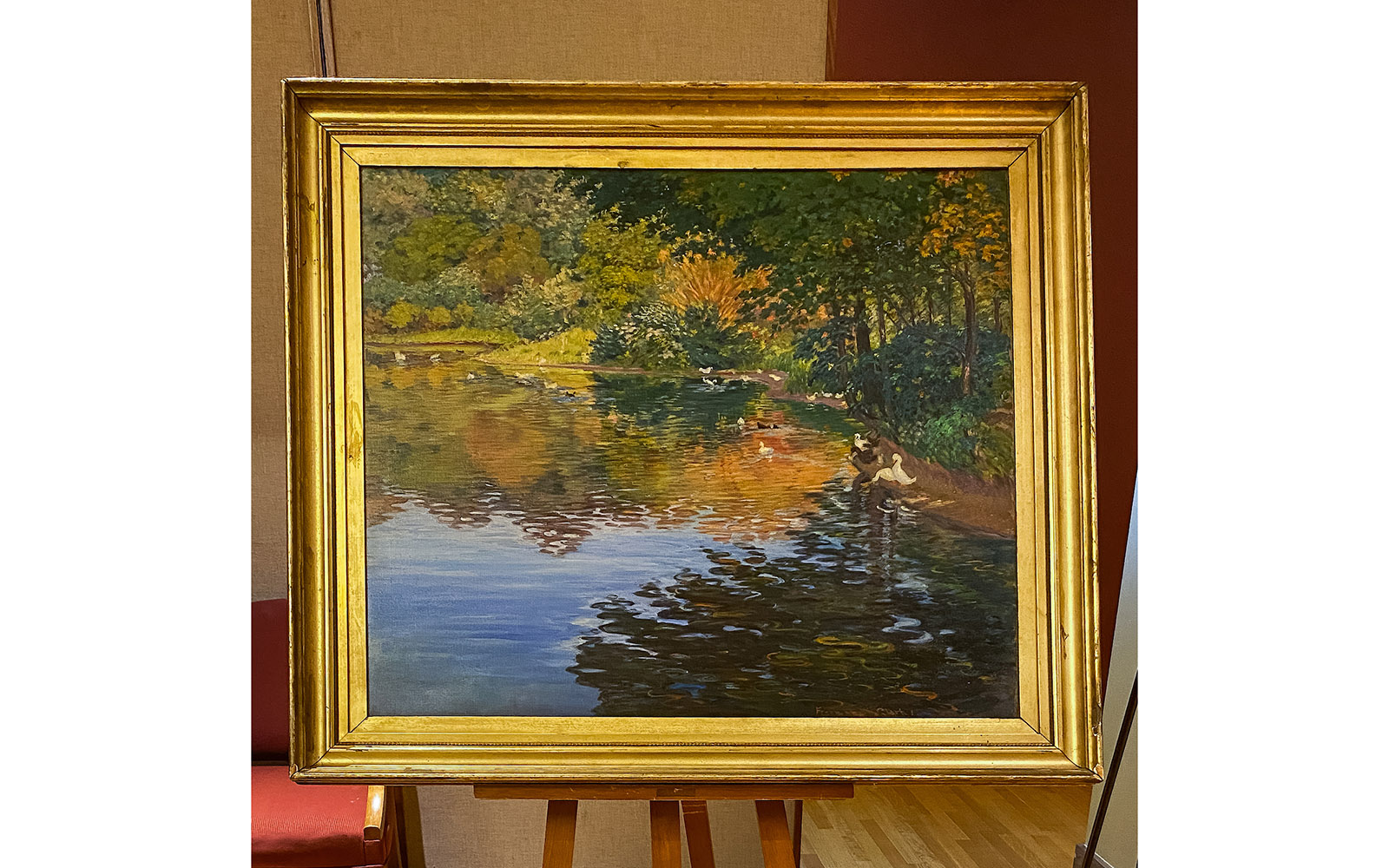 MSU Libraries Art Exhibition Honors Northern Mississippi Impressionist Painter Kate Freeman Clark
Contact: Sasha Steinberg
STARKVILLE, Mississippi — A nationally recognized northern Mississippi painter's interpretations of New York's diverse landscapes and cityscapes are the focus of a public exhibit at the Mitchell Memorial Library in the State of Mississippi.
Throughout the month of October, MSU Libraries host 'En Plein Air', featuring eight impressionist paintings by Kate Freeman Clark. These selected works are part of a collection of 1,200 paintings held at the Kate Freeman Clark Art Gallery in the artist's hometown of Holly Springs.
Students, faculty and staff, as well as art lovers and members of the public, can view the exhibit in the John Grisham Room on the third floor of the library. Viewing hours are 8 a.m. to 5 p.m. Monday through Friday. A virtual gallery conference is scheduled for later in the semester.
Born in 1875 in Marshall County, Freeman Clark began her artistic career after visiting the World's Columbian Exposition in Chicago in 1893. She studied with the impressionist William Merritt Chase, founder of what is now the Parsons School of Design , first at the Art Students League in New York, then at Chase's Shinnecock Hills Summer School of Art in eastern Long Island, where Freeman Clark mastered the technique of plein air or plein air painting.
Freeman Clark has spent most of his career in New York City, exhibiting widely in the Northeast. She sometimes signed her paintings under the name "Freeman Clark" to avoid discrimination on the basis of her gender. His last exhibition was at the Men's Club in New York in 1918.
Freeman Clark left the art world and returned in 1924 to Holly Springs, residing there until his death in 1957.
Jennifer McGillan, MSU Library Manuscripts Coordinator, said the paintings on display at MSU's Mitchell Memorial Library reflect the light and dark polarities of Freeman Clark's artistic interests.
Speaking on behalf of the Kate Freeman Clark Trust Board of Trustees, Kate Freeman Clark Art Gallery Director Walter Webb expressed gratitude to the MSU administration and staff who made it possible to share these paintings with the university and local communities.
"Our mission is to restore and preserve the more than 1,000 drawings and paintings held in the gallery and enhance Kate's recognition as a significant American Impressionist painter," said Webb. "Special thanks to Jennifer McGillan, who conceived the idea for this exhibit at MSU two years ago and worked diligently to make it happen."
For more information on Freeman Clark's life, career, and art gallery in Holly Springs, visit www.katefreemanclark.org.
Learn more about MSU libraries at www.library.msstate.edu.
MSU is Mississippi's premier university, available online at www.msstate.edu.